Pertumbuhan fintech di Indonesia cukup cepat, hingga saat ini transaksinya mencapai 0,6% dari transaksi global. (Indonesia Fintech Report 2016).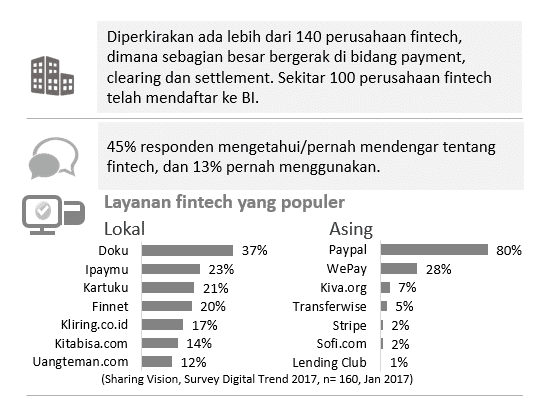 Pertumbuhan fintech secara global menunjukan dampak yang positif bagi perbankan, seperti dilaporkan oleh McKinsey & Company, dimana sejak 2011, adopsi digital banking meningkat pesat di seluruh Asia. Dengan potensi tersebut, beberapa bank Indonesia pun telah melakukan kerja sama dengan perusahaan fintech.
Meski dari segi transaksi fintech masih kalah dari eCommerce, namun potensinya tampak dari tingginya investasi. Di wilayah Asia-Pasifik, investasi fintech di Q12016, meningkat lebih dari lima kali dibandingkan periode yang sama tahun lalu. (Bank Indonesia, Kompas .com, des 2016)
Di sisi lain, terdapat isu yang sangat penting untuk dipertimbangkan yaitu isu security. Tingginya angka serangan cyber di Indonesia, serta masih lemahnya praktik pengamanan layanan elektronik menggunakan tanda tangan elektronik maupun sertifikat eletronik memerlukan solusi yang juga memerlukan dukungan pemerintah serta sinergi pihak terkait.
Perkembangan fintech ke depan, nampak tidak akan lepas dari teknologi big data analytic. Sepertin halnya online service lainnya akan membutuhkan manajemen data yang baik, serta tuntutan memaksimalkan customer experience.
Semoga berkenan bergabung,
Welcome to Bandung! Welcome to this Sharing Vision!
Dimitri Mahayana
Chief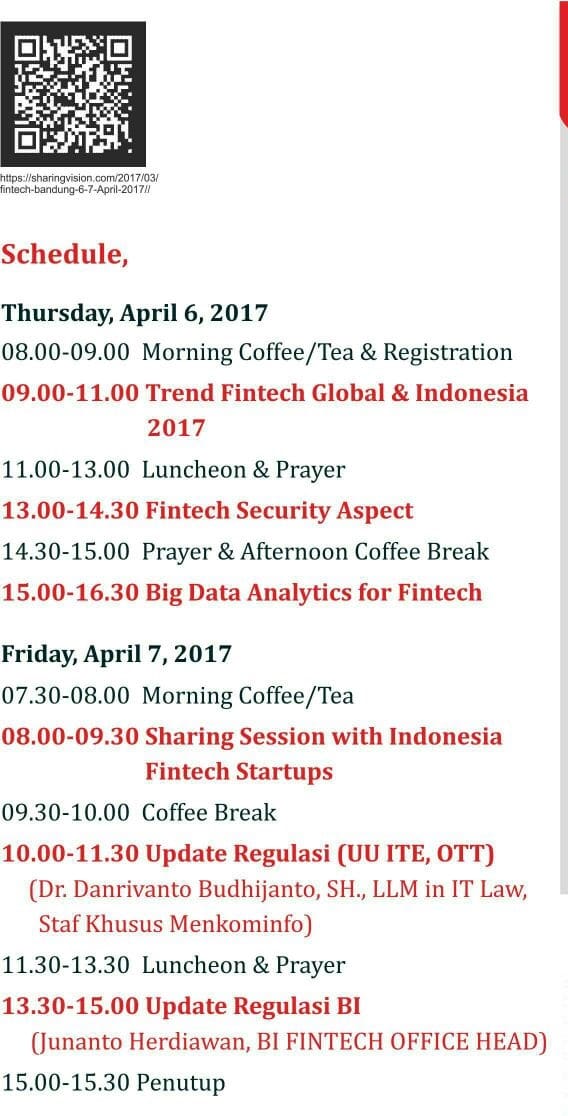 Lokasi Pelaksanaan :
Hotel The Crowne Plaza Jl. Lembong no 19 Bandung
Biaya
Rp. 7.000.000,- (Lunch & Coffee Break, Meeting Package, Course Material & Certificate , No Accomodation)
With Accomodation + Rp. 850.000,- per Night (room only and breakfast)
Informasi & Registrasi
[sv_register id="58″]
Bambang (0811220401)
E-mail : [email protected], [email protected]
Phone : 022-7101403, Fax: 022-7271057