Event telah dilaksanakan : Berminat mendapatkan materinya klik disini >>>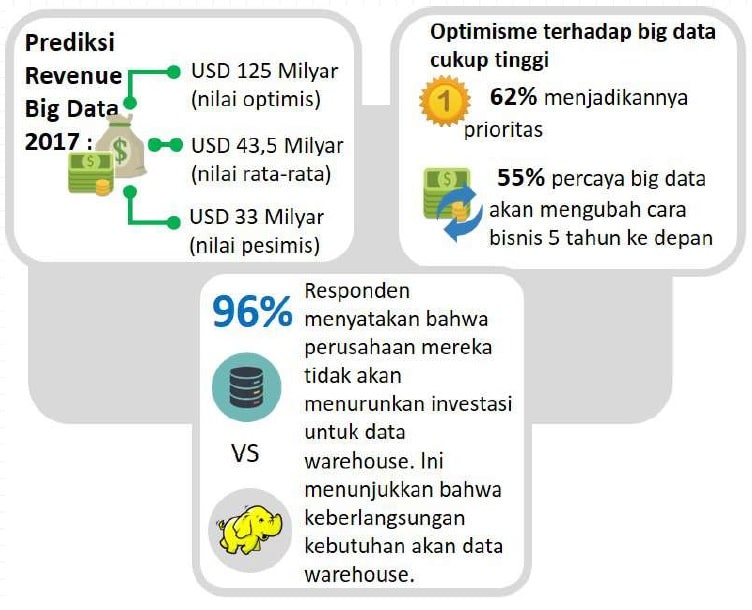 Big data adalah issue terhangat sejak 5 tahun terakhir, dan akan semakin menghangat karena semakin banyak pihak yang ingin mengimplementasikannya.
Banyak pihak optimis bahwa nilai bisnis Big Data tahun ini diperkirakan mencapai 50 Billion USD. Nilai ini akan terus meningkat dengan pertumbuhan cukup bagus.
Namun bagaimana dengan tren Enterprise Data Warehouse, beberapa riset menunjukan kegagalan proyek EDW masih sangat tinggi!
Bagaimana trend big data di dunia dan di Indonesia 2017?
Bagaimana contoh success story big data?
Bagaimana memahami ekosistem untuk mendukung perkembangan big data? Seperti apa environment Hadoop?
Apa saja tren predictive analytic 2017?
Bagaimana tren EDW? Apakah EDW akan tergantikan oleh big data?
Atau benarkah EDW dan Hadoop tidak saling replaceable?
Bagaimaan mengases kebutuhan big data di perusahaan?
Bagaimana mengaudit implementasi EDW dan big data?
Melalui keikutsertaan dalam Sharing Vision ini, diharapkan Anda akan memiliki hints (petunjuk-petunjuk) yang bermanfaat bagi perusahaan/ instutusi, terkait pengembangan big data dan keterkaitannya dengan Enterprise Data Warehouse.
Welcome to Bandung! Welcome to this Sharing Vision!
Dimitri Mahayana
Chief
Agenda:
Kamis, 23 Februari 2017
09.15 – 09.30
Morning Coffee/Tea & Registration
09.30 – 11.30
Sesi 1 Big Data Trend 2017
11.30 – 13.00
Prayer & Luncheon
13.00 – 14.30
Sesi 2 : Understanding Big Data Ecosystem  (Hadoop Environment)
11.30 – 13.00
Afternoon Coffee Break
15.00 – 16.30
Sesi 3:  Predictive Analytics Trend 2017
Jumat, 24 Februari 2017
08.00 – 09.30
Sesi 4: EDW & Its Comparison With Big Data: Should EDW Be Replaced By Big Data?
09.30 – 10.00
Morning Coffee
10.00 – 11.30
Sesi 5: Discussion:

Auditing implementasi EDW
Asesmen kebutuhan pengembangan Big Data di perusahaan
Auditing implementasi Big Data

11.30 – 11.40
Penutup
11.40 – 14.00
Prayer & Luncheon
Lokasi Pelaksanaan :
Hotel Papandayan Jl. Gatot Subroto 83 Bandung 
Biaya
Rp. 7.000.000,- (Lunch & Coffee Break, Meeting Package, Course Material & Certificate , No Accomodation)
With Accomodation + Rp. 850.000,- per Night (room only and breakfast)
Informasi & Registrasi
[sv_register label="Pendaftaran Online" id="53″]
[Bambang (0811220401)
E-mail : [email protected], [email protected]
Phone : 022-7101403, Fax: 022-7271057