Sebagian besar perusahaan telah mendefinisikan strategi Business Continuity Management (BCM). Banub neburut survei yang dilakukan oleh SHARING VISION dari tahun 2012 hingga April 2013, hanya pada bagian Information saja yang telah mendefinisikan strategi BCM. Sisanya seperti Supplies, People, Lokasi dan Teknologi masih belum optimal.
Berikut langkah-langkah yang dapat diambil dalam menentukan Business Continuity Strategy:
Mengindentifikasi Maximum Torelable Period of Disruption (MTPD) dan menentukan Recovery Time Objective (RTO) disetiap produk atau layanan (RTO labih kecil dari MTPD)
Mengindentifikasi stategi agar RTO dapat tercapai
Menganalisa strategi agar efektif untuk pembiayaan
Menentukan arsitektur disaster recovery center berdasar hasil analisis Business Impact Analysis, Risk Analysis, dan Continuity Requirement Analysis.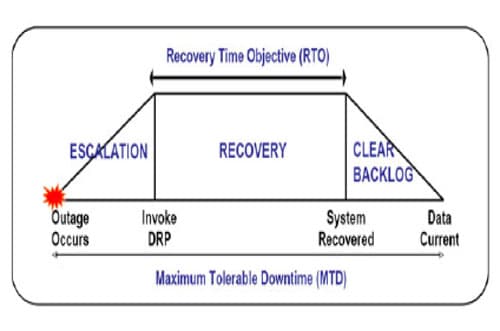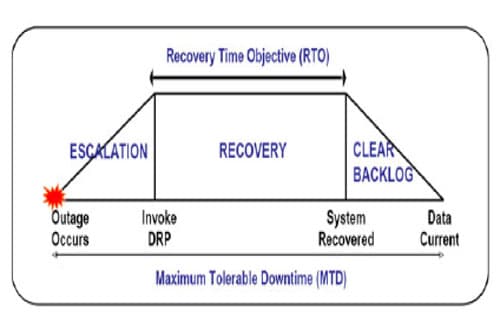 Maximum Tolerable Period of Disruption (MTPD) adalah durasi waktu yang setelah melewati waktu tersebut, keberlangsungan organisasi menjadi rusak (dari segi finansial maupun reputasi) dan jika suatu layanan atau produk tersebut tidak bisa dipulihkan dalam durasi waktu tersebut.
Dampak atas pelanggaran ketentuan Undang-undang/regulasi, dampak pada staf/publik, kerusakan reputasi, kerusakan terhadap kelayakan leungan, kerusakan kualitas produk atau jasa, dan kerusakan lingkungan adalah beberapa foktor yang dapat dipertimbangkan saat menghitung MTPD. Perhitungan kuantitatif (analisis data historis/estimasi teknikal) dan perhitungan secara kualitatif (pertimbangan stake holder) dapat pula diambil dalam mengindentifikasi MTPD.(**)