Banyak volume panggilan ke sebuah Contact Center adalah panggilan karena ketidakpuasan?
Banyak pengguna SMS Banking, Mobile Banking, dan Internet Banking  yang kecewa dengan kinerja customer service?
Tantangan teknologi Contact Center terbesar adalah performansi sistem pada kondisi load yang tinggi dan integrasi sistem Contact Center dengan sistem lain di perusahaan?
Fungsi utama Contact Center di Indonesia adalah fungsi Call Center, Help Desk; sedangkan Contact Center yang menyediakan fungsi online masih sangat sedikit?
Source: Sharing VisionTM Survey, 2012
Bagaimana state of the art contact center global, tren dan isunya?
Apa saja teknologi contact center yang berkembang saat ini ?
Bagaimana membangun contact center yang baik, dilihat dari faktor people, process dan technology, apa saja tantangannya ?
Bagaimana mengukur kesuksesan sebuah contact center, apa saja metrik performansinya ?
Apa faktor sukses layanan contact center ?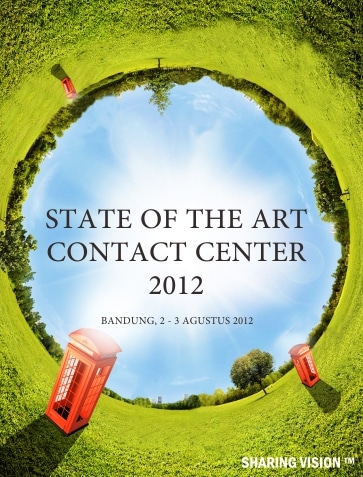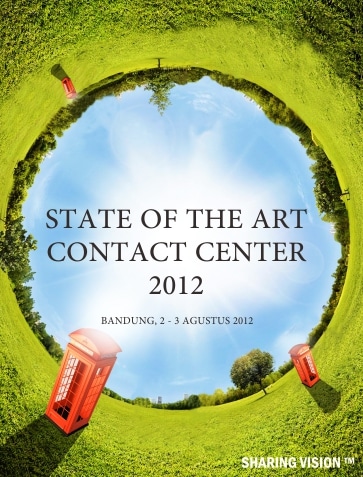 Pelaksanaan
Kamis-Jumat, 2-3 Agustus 2012,
Aston Tropicana Hotel,
Jl. Cihampelas 125-129 , Bandung
Schedule:[message type="info"]
Kamis, 2 Agustus 2012
09.15 – 09.30
Morning Coffee/Tea & Registration
09.30 – 11.30
State of The Art Contact Center 2012
11.30 – 13.00
Prayer & Luncheon
13.00 – 14.30
Contact Center Technology
14.30 – 15.00
Afternoon Coffee Break
15.00 – 16.30
Planning and Building Contact Center

Jumat, 3 Agustus 2012
08.00 – 09.30
Measuring Contact Center Performance
09.30 – 10.00
Morning Coffee Break
10.00 – 11.30
Work Group and Discussion: Contact Center Key Success Factors

11.30 – 11.40

11.40 – 14.00

Penutup

Prayer & Luncheon
[/message]
Untuk informasi lebih lanjut, silahkan menghubungi :

Telepon : 022-7101403
Fax : 022-7271057
Email : [email protected]
HP: Intan (0815 6021 012), Bambang (0811 220 401)