VISITING WORLD CLASS DATA CENTER
EQUINIX
Bagaimana aspek-aspek penting dalam DESAIN Data Center yang World Class ?
Equinix merupakan Top Global Data Center Provider
Equinix merupakan Top Global Data Center Provider.
Equinix digunakan oleh global operator seperti AT&T, British Telecom, Deutsche Telekom, France Telecom, KDDI, NTT, Singtel, Sprint and Verizon, dll.
Equinix digunakan oleh perusahaan-perusahaan IT besar di dunia, seperti Adobe Software, IBM, Electronic Arts, General Electric, HP, Microsoft, dan Apple, Sony, ServiceNow, dll.
Equinix juga digunakan oleh 9 dari 10 Top Internet Site dunia, yaitu: Google, Yahoo, Facebook, Amazon, dan lain-lain.
Equinix memiliki koneksi ke lebih dari 975 network provider, 450 cloud service provider dan 600 IT service provider .
Equinix Singapore memiliki 425 perusahaan klien yang menggunakan layanan colocation.
Equinix Singapore memiliki area Data Center yang luas, yaitu 19,800 m2, yang terdiri dari 2 Data Center dengan lokasi yang terpisah. Dan saat ini Equinix Singapore sedang membangun gedung ketiganya.
Equinix Singapore merupakan Data Center dengan kategori Tier 4, dengan availability 99,999 sd 99,9999 (five nine to six nine).
Mengapa Anda perlu berkunjung ke World Class Data Center?
Data Center merupakan salah satu top issue dalam dunia IT di Indonesia.
Banyak perusahaan dan institusi di Indonesia sedang mencari dan mengembangkan Data Center dan Disaster Recovery Center.
Trend kebutuhan Data Center dan DRC di Indonesia diprediksikan akan terus meningkat.
Apa yang akan Anda peroleh dari mengikuti event ini?
Memahami hal-hal penting yang harus diperhatikan pada Data Center yang berstandar world class.
Memahami konsep dasar, trend dan issue terkini tentang Data Center.
Memahami konsep Tier Data Center sesuai dengan TIA 942.
Memahami infrastruktur fisik arsitektur bangunan, mekanikal, dan elektrikal) Data Center yang ideal.
Memahami manajemen operasi Data Center yang baik.
Melihat langsung infrastruktur dan  manajemen operasi Data Center kelas dunia Equinix yang sudah berhasil mencapai availability 99.999% sampai dengan 99.9999% (five nine to six nine).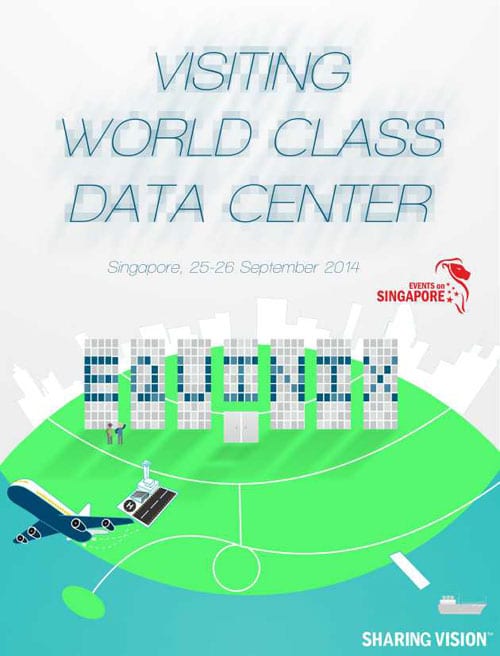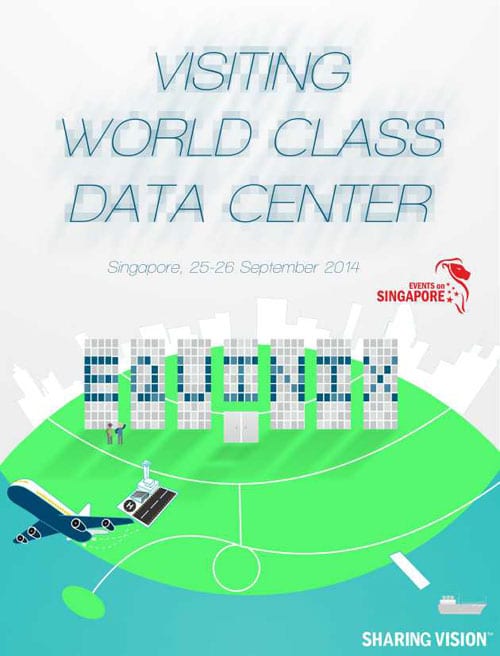 Schedule
Kamis-Jumat, 25-26 September 2014
Royal Plaza on Scotts Hotel 25 Scotts Road, Singapore
Thursday, Sept 25, 2014
09.30 – 10.00Morning Coffee/Tea &   Registration
10.30 – 12.00Global Trends and Issues of Data Center and State of The Art Indonesian Data Center Profile 2014
12.00 – 14.30Prayer & Luncheon
14.30-17.00Visiting & Benchmarking to Equinix Data Center inSingapore*
Friday, Sept 26, 2014
09.30 – 11.30 Workgroup & Discussion
11.30 – 12.00 Closing
*Nama peserta diharapkan segera disampaikan untuk mendapatkan permit access dalam site visit
Contact Us:
Nur (08567890313)
Bambang (0811220401)
Amir (08179284535)
E-mail:  info@sharingvision@yahoo.com