Dalam Security Thread  kali ini,  kita akan membahas tentang tipe serangan Phising dan Denial of Sevice (DOS). Phising adalah metode serangan yang memancing korban untuk membuka informasi pribadi atau mendownload malware menggunakan email.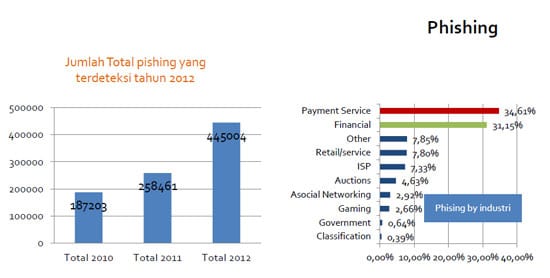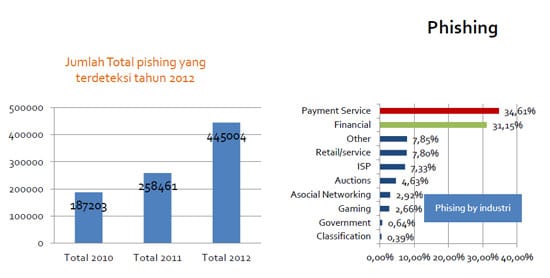 Hacker akan menyebarkan sprear phising pada EMC (2 batch email yang berisi recruitment plan), EMC adalah merupakan perusahaan pembuat storage komputer terbesar didunia juga menyediakan layanan Cloud Computing. Setelah itu karyawan mengakses link di dalaam emailnya yang telah disebarkan oleh hacker. Malicious pun terinstal dan hacker dapat mengakses EMC internal network, lalu menargetkan data yang valuable.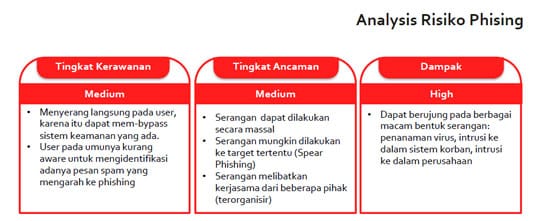 Solusi adalah menyaring spam email, tidak meng-klick attachment ataupun link dari email yang tidak dikenal, segera menghapus email yang tidak jelas pengirimnya, dan yang terakhir adalah tidak meng-approve warning yang menyatakan bahwa certificate tidak sah.
Sedangkan Denial of Service adalah metoda penyerangan yang dapat memnyebabkan penolakan service terhadap client yang berhak. Hal ini pernah terjadi pada 5 bank besar di Amerika yang mengalami slowdown respon pada website mereka, sehingga tidak dapat menjangkau konsumen sepanjang hari.


Kita dapat melakukan identifikasi sumber serangan dan filtering packet data jika serangan benar-benar terjadi.(**)