"Melalui blog resminya, Sabtu (2/2/2013), Twitter mengaku telah menyadari adanya pola akses yang tidak biasa beberapa waktu lalu. Setelah diselidiki, pihak keamanan Twitter akhirnya menyadari situs mereka sedang di-hack. Lebih lanjut, Twitter menemukan ada 250.000 akun yang telah dicuri dari database, termasuk username, password, e-mail, dan juga session token."
sumber:http://tekno.kompas.com /read/2013/02/02/11182816/Twitter.Dibajak..250.000.Akun.Dikuasai. Hacker
Presiden Barack Obama pernah menulis dalam sebuah kolom, "Sejauh ini , belum pernah ada yang bisa merusak atau memutus jaringan infrastruktur kritis kita. Namun pemerintah asing, sindikat kriminal dan individu-individu mandiri sedang menyelidiki sistem finansial kita, sistem energi kita dan sistem keamanan publik kita setiap hari. Tahun lalu, sebuah pabrik air di Texas memutus sistem kontrolnya dari Internet setelah hacker mem-posting fotonya di kontrol internal fasilitas ini… membuat sistem perbankan vital dapat memicu suatu krisis finansial. 
(Barack Obama) "Taking the Cyberattack Threat Seriously" The Wall Street Journal, 19 July 2012.
diambil dari http://online.wsj.com/article /SB100008723963904443309045 77535492693044650.html.
SHARING VISION ini akan membahas tentang bagaimana dengan keamanan informasi di Indonesia? Bagaimana kasus-kasus pembobolan keamanan informasi di Indonesia? Bagaimana trend keamanan layanan finansial di Indonesia? Termasuk di antaranya EDC dan branchless banking berbasis agen? Bagaimana trend keamanan layanan publik di Indonesia? Termasuk di antaranya pulsa dan electronic voucher, kartu listrik prabayar, kartu tiket KA prabayar dan kartu bis prabayar? Bagaimana membangun Security Management dan Security Architecture di perusahaan atau institusi? Bagaimana pula melakukan audit keamanan informasi yang efektif ?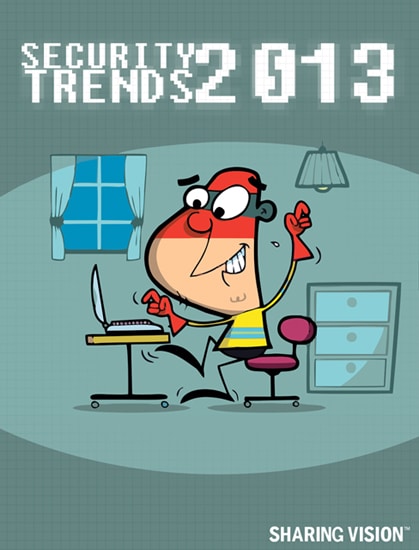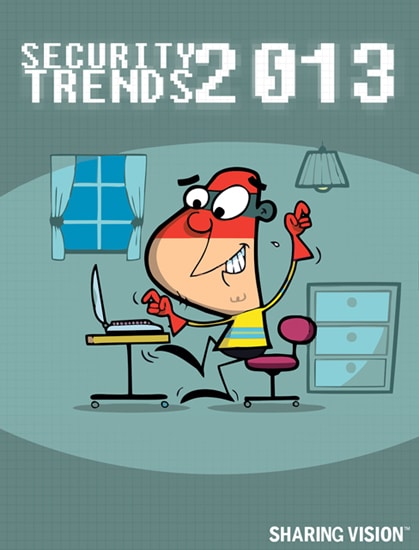 Schedule
[message type="info"]
Rabu-Kamis, 27-28 Maret 2013
Hotel Aston Primera
Jl. Dr. Djunjunan no.96, Bandung
Wednesday, March 27, 2013
09.15 – 09.30   Morning Coffee/Tea & Registration
09.30 – 11.30   Security Trend 2013: Anatomi Serangan, Technical Attack, Social Engineering, Regulasi.
Trend identity theft
Trend metode serangan : maleware, pishing etc
Trend target serangan : perorangan masal, perorangan spesifik, perusahaan
Tujuan organized cybercrime
Trend tujuan serangan : financial fraud, comercial, vandalism, sabotage, intellegence
Regulasi : PP B2/2013 Keamanan dan Infomasi
11.30 – 13.00   Prayer & Luncheon
13.00 – 14.30   Studi kasus Indonesia 1: keamanan layanan financial
Statistik/fakta insiden keamanan finansial : SMS banking, Internet banking, ATM, credit card, stored value card, insider fraud, EDC & agent based branchless banking, financial crime melalui situs jejaring sosial
Threat-vulnerability analysis and recommended solution : [a] within access channel (mobile device, web service, terminal, card), [b] within switching provider, [c] within back-end system, [d] within business process
14.30 – 15.00   Afternoon Coffee Break
15.00 – 16.30   Studi kasus Indonesia 2: keamanan layanan publik (telekomunikasi, listrik, transportasi)
statistik/fakta insiden keamanan layanan publik : [a] telekomunikasi : insiden pencurian pulsa (oleh content provider), balance/invoice dispute, electronic voucer fraud [b] PDAM and PLN : balance/invoice dispute, listrik prabayar [c] Transportasi: kasus pemesanan tiket KA, calo tiket, kartu tiket prabayar
Threat-vulnerability analysis and recommended solution : [a] within access channel (web service, terminal, card), [b] within switching provider, [c] within back-end system, [d] within business process
Thursday, March 28, 2013
08.00 – 09.30    Membangun Security Management dan Security Architecture
Security life cycle and how to build an effective security policy, standard and procedure
Build an effective security organisation
Build security architecture
09.30 – 10.00   Morning Coffee
10.00 – 11.30   Audit Keamanan Sistem yg Efektif (scope, method, report-metrik)
Audit on security management
Audit on security requirement
Audit on actual/life system
Network penetration test
Aplication, database penetration test
11.30 – 11.50   Penutup
11.50 – 14.00   Prayer & Luncheon
[/message]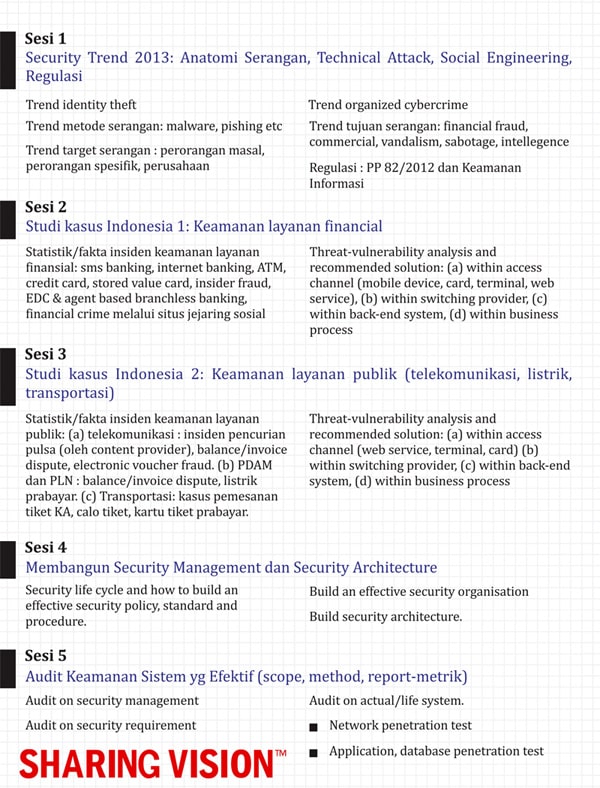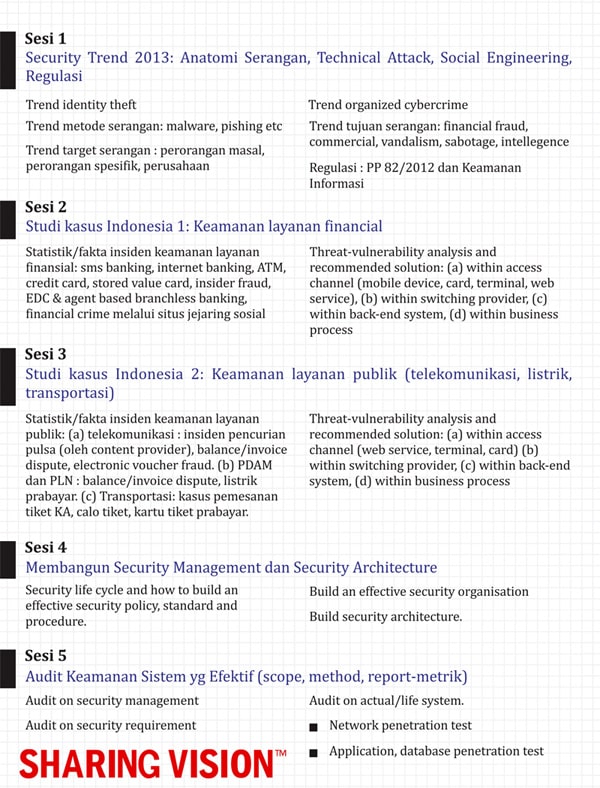 Contact Us:
Bambang (0811220401)
Amir (08179284535)
Intan (08156021012)
E-mail: