SHARING VISION kali ini (31 Januari – 1 Februari 2013) menggelar workshop bulannannya di Hotel Aston Primera, Jl. Dr. Djunjunan no. 96, Bandung. Kal ini SHARING VISION membahas tentang bagaimana peta e-Channel di Indonesia 2013. Bagaimana review bisnis ATM di Indonesia. Bagaimana cost structure pembangunan ATM. Bagaimana cost benefit model-model pengadaan ATM. Bagaimana status migrasi magnetic card saat ini. Apa saja permasalahan yang dihadapi. Apa saja dampak dari Peraturan Pemerintah No. 82 tahun 2012 terhadap industri e-channel di Indonesia. Bagaimana Gap yang terjadi. Dan, apa faktor sukses layanan e-Channel di Indonesia.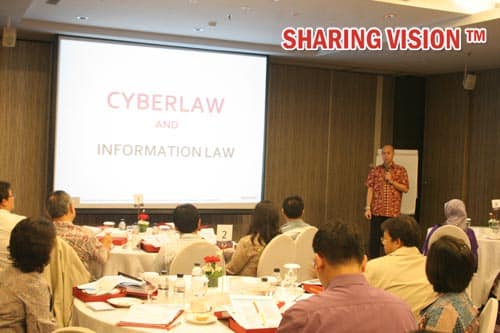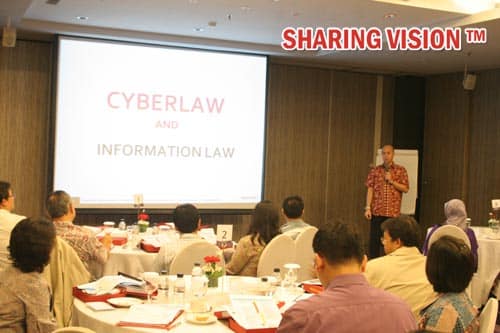 Workshop bertajuk "e-Channel Update & Trends 2013" dihadiri oleh 40 peserta dari berbagai lembaga dan dihadiri oleh 5 pembicara yang dibagi dalam lima sesi. Kelima pembicara tersebut adalah Dimitri Mahayana, Budi Sulistyo, Arry Akhmad Arman, dan dua guest speaker, DR. Danrivanto Budhijanto, SH, LLM, Ahli hukm Teknologi Informasi, Dosen Fakultas Hukum UNPAD, Former BRTI Commissioner dan Arbiter Badan Arbitrasi Nasional Indonesia (BANI), dan Himawan Kusprianto dari Bank Indonesia.
Kelima sesi tersebut adalah (1) Indonesia e-Channel Map 2013, (2) ATM Business Review: ATM Cost – Benefit Model, (3) Branchless Banking & e-Channel Remittance, (4) Migration to Chipcard: Progress & Problem, dan (5) Risk Regulation Analysis of PP No. 82/2012 about Informasi Transaksi Elektronik (ITE) toward e-Channel Business.