Indonesia menjadi negara urutan satu sumber serangan cyber di tahun 2013. Ada 42 ribu serangan cyber per harinya. Selain itu, Indonesia dianggap sebagai negara paling beresiko mengalami serangan IT security.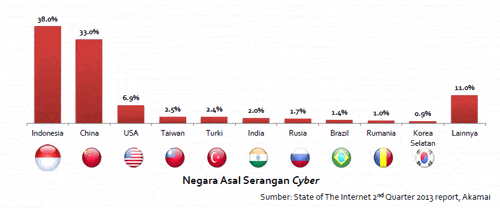 Menurut data dari Kementerian Komunikasi dan Informasi, selama 3 tahun terakhir terdapat 36,6 juta serangan cyber di Indonesia. Menurut State of the Internet pada laporan triwulan kedua tahun 2013, 38% serangan cyber terjadi di Indonesia, diikuti oleh Cina dengan sebesar 33%.
Angka di atas menunjukkan bahwa diperlukan antisipasi cyber security dengan menerapkan organisasi security yang end to end dan dipimpin langsung oleh presiden serta melibatkan multi departemen termasuk Dephan, Depkominfo, Depdagri, dll.