Menurut McKinsey, pada tahun 2018, Amerika serikat akan kekurangan 140.000 hingga 190.000 SDM dengan keahlian analitikal yang dalam, dan kurangnya 1,5 juta analis yang mampu melakukan sesuatu pada data dalam jumlah besar yang akan hadir pada saat itu.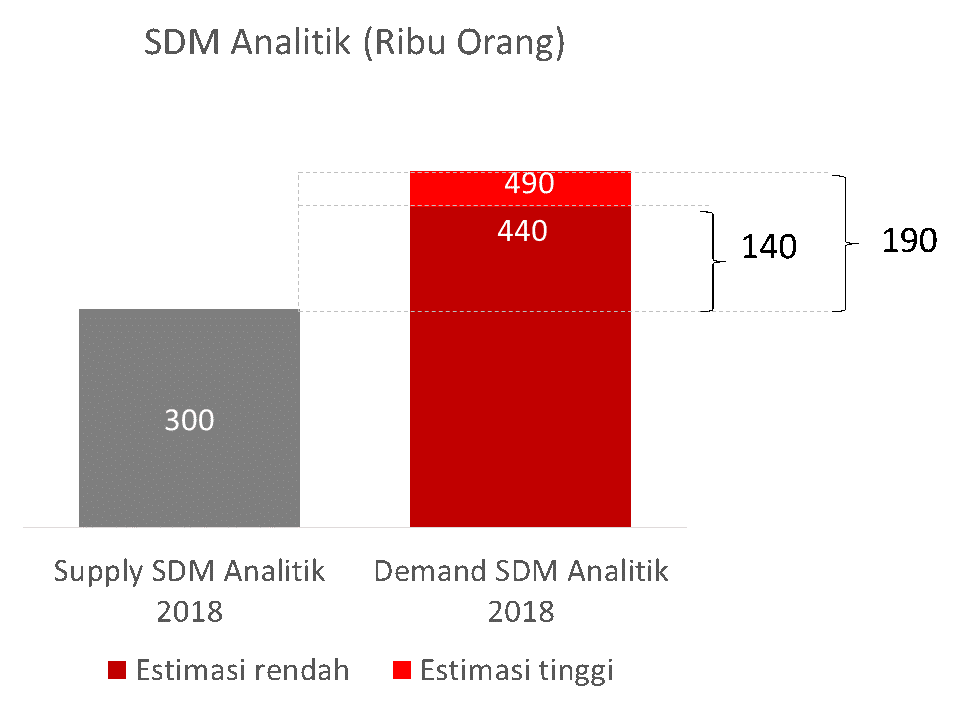 Menurut Gartner, lebih dari setengah organisasi besar di dunia akan menggunakan advanced algorithm dan advanced analytic menjadi lebih kompetitif di tahun 2018.
Untuk dapat bertahan di era digital economy, kedepannya organisasi end-user dan vendor perlu meningkatkan investasi mereka ke advanced analysis. Organisasi terkemuka mengembangkan algoritma mereka sendiri yang dapat memberikan analisis yang lebih cepat dan berwawasan tinggi untuk meninggalkan cara menebak-nebak dalam mengambil keputusan.
About:
Mengenal trend big data dan data science 2018.

Mengetahui perkembangan ekosistem teknologi big data dan mengenali ekosistem yang tepat bagi perusahaan

Memahami bagaimana analisa sentimen (sentiment analysis) dapat mengelola voice of customer yang ada melalui channel customer service perusahaan seperti website resmi perusahaan, facebook, dan twitter. Demo akan dilakukan melalui website bigdatasharingvision.com.

Memahami konsep market basket analysis dengan machine learning dalam merekomendasikan suatu item produk atau layanan kepada pelanggan. Sharing vision akan mengupas konsep dasar dan algoritma machine learning yang digunakan dalam market basket analysis dan menunjukkan step-by-step pengolahannya dengan menggunakan R.

Memahami bagaimana cara melakukan segmentasi pasar dengan melakukan clustering pada data pelanggan.
Schedule :
Kamis, 19 Oktober 2017

09.15 – 09.30

Morning Coffee/Tea & Registration

09.30 – 11.30

Big Data and Data Science Trends 2017

11.30 – 13.00

Prayer & Luncheon

13.00 – 14.30

Ecosystem of Big Data Technology and How to Choose It

14.30 – 15.00

Afternoon Coffee Break

15.00 – 16.30

Big Data Analytics & Use Case (1): Sentiment Analysis

Jumat, 20 Oktober 2017

08.00 – 09.30

Big Data Analytics & Use Case (2): Market Basket

09.30 – 10.00

Morning Coffee/Tea

10.00 – 11.30

Big Data Analytics & Use Case (3): Market Segmentation

11.30 – 11.40

Penutup

11.40 – 14.00

Prayer & Luncheon
Lokasi
Hotel Holiday Inn Pasteur
Jl. Dr. Djunjunan 96, Bandung.
Biaya
[sv_register label="Pendaftaran Online" id="69″]
Rp. 7.000.000,- (Lunch & Coffee Break, Meeting Package, Course Material & Certificate , No Accomodation)
With Accomodation + Rp. 788.000,- nett per night (Weekday) (room only + breakfast)
Info & Registrasi
Bambang (0811220401)
E-mail : [email protected], [email protected]
Phone : 022-7101403, Fax: 022-7271057