Kami mengundang Bapak/Ibu beserta staf untuk menghadiri dan berpartisipasi pada serial Sharing Vision: BCM UPDATE 2017
Berhentinya operasi perusahaan dalam hitungan jam saja dapat mendatangkan kerugian milyaran rupiah. Seperti yang terjadi beberapa waktu lalu terhadap beberapa perusahaan ecommerce di Indonesia, yang merugi Rp 35 milyar disebabkan down-nya system IT selama 6 jam karena terhentinya suplai listrik di data center yang digunakan perusahaan.
Tren kerentanan terhadap sistem IT perusahaan juga tinggi dilingkungan cyber security, didorong juga maraknya pemakaian mobile application. Survey global menunjukkan perusahaan di dunia menganggap cyber attack, pencurian data serta outage IT & telecom sebagai ancaman yang paling diperhatikan di tahun 2017. Sedangkan kejadian gangguan operasi yang dialami perusahaan paling banyak disebabkan oleh yang pertama adalah outage IT & telecom, kemudian gangguan cuaca, gangguan suplai utility, serta serangan cyber. (Sumber: www.bsigroup.com, 2017)
Untuk itu melalui event ini, Sharing Vision mengajak Anda dan perusahaan
mendiskusikan bagaimana agar perusahaan siap dan handal dalam menghadapi ancaman maupun gangguan yang bersumber dari IT, cyber security, human error, bencana dll, melalui pengembangan business continuity management yang efektif dan applicable serta penerapan business continuity plan yang update dan selalu diuji.
Welcome to Bandung! Welcome to this Sharing Vision!
Dimitri Mahayana
Chief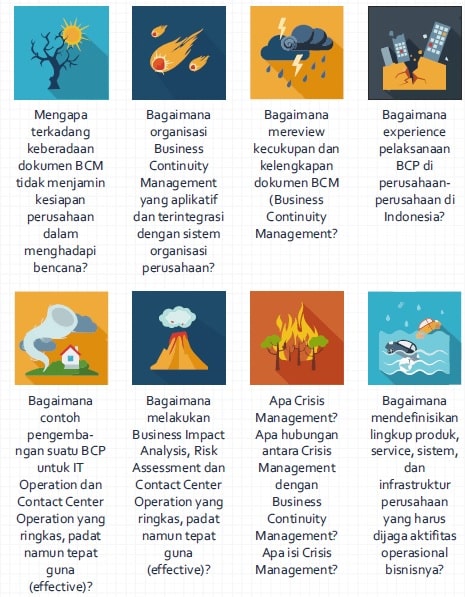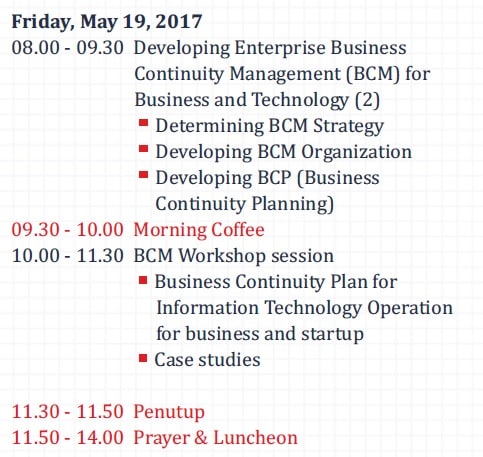 Lokasi Pelaksanaan :
Hotel Aston Tropicana, Jl. Cihampelas No.125 – 129, Bandung
Biaya
Rp. 7.000.000,- (Lunch & Coffee Break, Meeting Package, Course Material & Certificate , No Accomodation)
With Accomodation + Rp. 788.000,- per Night (room only and breakfast)
Informasi & Registrasi
[sv_register id="61″]
Sharing Vision BCM Update 2017 (*pdf)
Bambang (0811220401) Call / SMS / WA
Amir (08179284535) Call / SMS / WA
Intan (08156021012) Call / SMS
Jeff (081394433272) WA / Line
E-mail : [email protected], [email protected]
Phone : 022-7101403, Fax: 022-7271057