Wait and See (Survei Peningkatan Pengiriman Tablet Q2 2011)
Salah satu jenis gadget yang pernah mengalami peningkatan pengiriman lebih dari 200% adalah tablet. Tablet ini, dari berbagai macam merk, menunjukkan peningkatan 394% pada kuartal II 2011.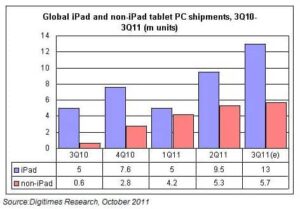 Hasil survei IDC seperti yang dikutip Cellular-News.com menunjukkan bahwa total pengiriman tablet di Eropa, Timur Tengah, dan Afrika Kuartal II 2011 adalah 4.368.000, dimana produk Apple memiliki angka tertinggi yaitu 2.910.000.
Tingginya minat terhadap tablet, khususnya di Eropa Barat, disebabkan oleh desain produk antarmuka sentuh yang intuitif, penggunaan internet-sentris, dan banyaknya aplikasi. Apakah para konsumen akan tetap memasang sikap wait and see untuk kehadiran iPad 3, seperti halnya untuk iPad 2?
Sumber: IDC